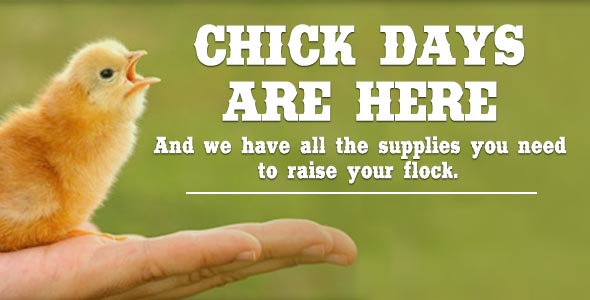 Expert Articles & Advice
April 15, 2017
Spring is finally here! While there is much to do in your yard and garden this month, don't get discouraged! There is plenty of time in the month to get to everything without overdoing it!
April 1, 2017
Spring is chick season. Whether you are just starting a flock, increasing the numbers of chickens you keep or bringing new breeds home to try. Your brooder is critical to give for your chicks security, warmth and shelter they need for their earliest days.
Special Announcements
How to Attract Birds To Your Yard
One of the best hobbies you can enjoy with your kids, especially when it turns cold outside, is backyard birding. Learning to identify the different species, and understanding their eating habits, can be a lot of fun. Learn more here.
Customer Loyalty Programs
Customer Rewards Club

$5 Off $150 Purchased Products

For More Information CLICK HERE.

Blue Buffalo Frequent Buyer Club

Mfd. by Blue Buffalo

Buy 10 Bags, Get 1 FREE